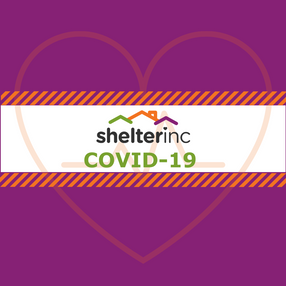 SHELTER, INC. Message on Covid-19
SHELTER, Inc. is working to keep participants, visitors, volunteers, and staff safe from the coronavirus (COVID-19). SHELTER, Inc. is an essential component of the human services Safety Net in Contra Costa, Solano, and Sacramento Counties. We are often the first and last line of defense for vulnerable members of our community, even saving their lives. To read our news release click here!
SHELTER, Inc. is considered an essential service and our shelters in Contra Costa (Mountain View Family Shelter), Solano (SHELTER Solano), and Sacramento (River District Shelter) counties will remain open and can be accessed via each county's respective Coordinated Entry System.
What we are doing
SHELTER, Inc. has been taking appropriate precautions since before the first announcements of COVID-19 cases in the Bay Area and is following the guidance of Federal, State & Local health officials, including:
SHELTER, Inc.'s multiple sites are closed to the public and all in-person meetings have been suspended and converted to virtual meetings where possible. These meetings are by appointment only.
In all locations, we have established procedures for cleaning and maintaining work-spaces and common areas to combat the virus.
We have implemented active monitoring for participants in our shelters to check for fever, respiratory issues, and signs of any illness.
Each of our shelters has identified isolation areas for anyone who contracts any illness.
Posted signs throughout our facilities, encouraging hand hygiene, respiratory etiquette, etc.
We are enforcing "extreme social distancing" for all staff and participants.
SHELTER, Inc. is fulfilling its mission by continuing to serve those most vulnerable who are homeless or at risk of homelessness in our communities. But we can't do it alone.
How can you help?